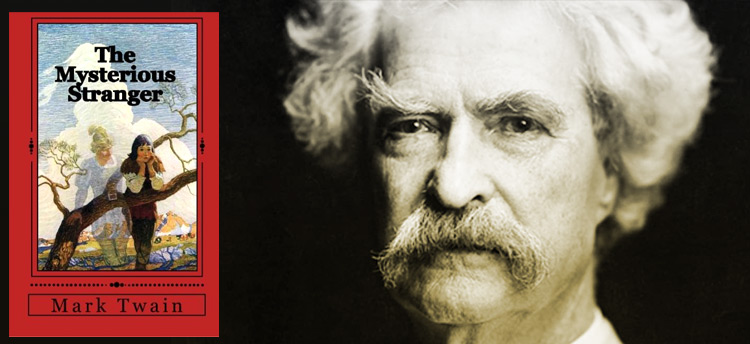 Let's take a look at some of the most popular books published in 1916…
1. Rinkitink in Oz by L. Frank Baum
This book is part of the series of the Land of Oz books written by many different authors, including L. Frank Baum, Ruth Plumly Thompson, Roger S. Baum and more! Rinkitink is the 10th edition. It is clear by the written language and colourful illustrations that Baum intended this book for children to read. However, it is definitely interesting enough for adults to enjoy too! It tells the story of the main characters King Rinkitink, Bilbil and Inga and takes you on the Oz adventure. Like all Land of Oz books, it eventually ties to Nome King, Dorthy and the Wizard of Oz.
2. The Mysterious Stranger by Mark Twain
Mark Twain was an extremely popular writer during the 1900s. He is mostly known for his novels Adventures of Huckleberry Finn and The Adventures of Tom Sawyer! But has published over 20 novels throughout this lifetime. The Mysterious Stranger was Twain's last ever book published! In this book, you will find that many of the issues raised to correspond with today's issues too. It essentially explores how mankind continues to shoot themselves in the foot. The story is told from a child's perspective, Theodor Fisher. It is based around the Angel Satan and his meetings with Nikola Tesla. It is very philosophical and explores non-duality!
3. A Portrait of the Artist as a Young Man by James Joyce
This book is semi-autobiographical fiction and Joyce tells his story in the narration of the main character, Stephen Dedalus. It takes you on his journey of a period of Dedalus' life in which he devoted himself to religion before realising he wants to devote himself to being an artist. Which eventually leads him to leave his religion, his country (Ireland) and his family to pursue this dream. It takes you on a journey of Joyce's early childhood (through his alter-ego Daedalus) from early childhood to adulthood.
4. Understood Betsy by Dorothy Canfield Fisher
This book tells the story of a 9-year orphan girl, Elizabeth Ann, who gains admiration and love from two different families. It takes you on her beautiful journey as she matures and learns valuable life lessons. It's a story about love, friendship, growing, helping others, being kind and so many other important subjects for children. The main message is to love people for who they are, flaws and everything. And the book also reflects her belief that children learn best in natural settings rather than artificial environments as Ann discovers more about life through her experiences than in any school. It's a great inspirational book for children and adults will even learn a few things too!
5. The Home and the World by Rabindranath Tagore
This book gives three first-person accounts that give many different philosophical outlooks which make this book extremely interesting. You'll unquestionably find some diamond perspectives that will get you thinking and stopping for a moment to fully grasp the meaning. It is based on the movement for Indian independence leading up to the Partition that was yet to come in 1947. It gives insight into the traditional male and female roles in 1900s India. By telling the story of Nikhil, a traditional domestic wife with no expectations of ever diverging from the path set out for her. It is eye-opening and thought-provoking throughout.
6. Mr. Britling Sees It Through by H. G. Wells
This book tells the story of the main protagonist, Mr Britling, a complex character which many concerns that start to emerge. They are a result of the beginning of 'The Great War' and he describes his experiences of the first two years. It describes his life before the war as a comfortable, happy man who was rarely conflicted. The plot then goes on to present his growing confused and conflicted thoughts and feelings when the war starts. His peaceful and privileged life is starting to fade into the distance and he ponders if his life will ever return to normal.
The Most Popular Books Published in 1916