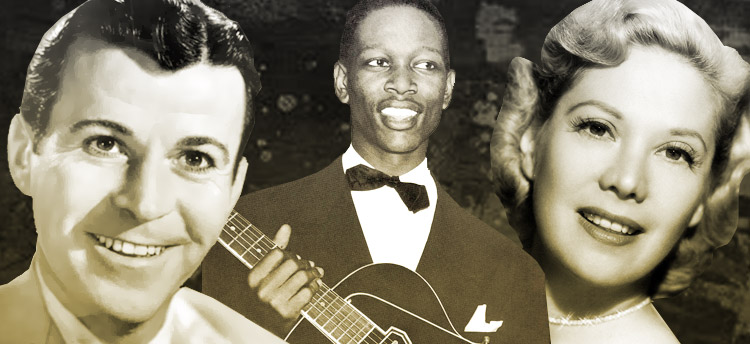 Dennis Day
Born: May 21, 1916, Bronx, New York City, United States
Dennis Day was an American singer but of Irish descent. But he was a man of many talents! He was also well-known for presenting (radio), his TV personality and radio. His most famous songs include Clancy Lowered the Boom, When Irish Eyes are Smiling, Danny Boy, Dear Old Donegal, Mac Namara's Band and I Promise I'll Never Break Your Heart. And he released many more!
Charlie Christian
Born: July 29, 1916, in Texas, United States
Charlie Christian was an extremely talented American jazz guitarist. An interesting fact about Christian is that he was actually among the first musicians to ever use electrically amplified equipment for improvisation. He was a part of many famous songs! Such as Swing to Bop, Till Tom Special, Honeysuckle Rose, Six Appeal, Profoundly Blue, I Found a New Baby, Waitin' For Benny and Guys' Got to Go.
Charles Fowlkes
Born: February 16, 1916, in New York, United States
Charles Fowlkes was an American saxophonist that was a member of the Count Basie Orchestra for over 25 years! The other members included Joe Keyes (soloist), Oran 'Hot Lips' Page (Trumpeter), Buster Smith (alto saxophone), Earle Warren (alto saxophone), Lester Young (tenor saxophone), Dan Minor (trombone) Jo Jones (drummer), Walter Page (bass) and Basie (piano). He played the saxophonist in many famous songs during the 1900s. Such as When I Fall in Love, Corner Pocket, Are You Havin' Any Fun?, Salty Papa, Struttin' Down His Broadway and Home Come You Do Me Like You Do.
Dinah Shore
Born: February 29, 1916, in Winchester, Tennessee, United States
Dinah Shore was a talented vocalist whose voice became known all over the world. She was the top-charting female vocalist of the 1940s! Her popular songs include Lavender Blue, Laughin' on the Outside, Yes, My Darling Daughter, You Keep Coming Back Like a Song, Blues in the Night and Dear Hearts and Gentle People. And if you don't know these songs, you'll definitely know her collaboration with Buddy Clark – Baby it's Cold Outside.
Ken Curtis
Born: July 2, 1916, in Lamar, Colorado, United States
Ken Curtis was an American singer who specialised in Country music. He was also a very well known actor, best known for his role as Festus Haggen on the CBS western television series Gunsmoke. His most famous songs include Ode To A Mule, What Makes A Man To Wander, Serenade Of The Cowboy, Six Shiny Black Horses, You'll Live To See The Day and This Aint The Same Old Range.
John L. Nelson
Born: June 29, 1916, in Webster Parish, Louisiana, United States
John L. Nelson was an American jazz musician and songwriter! He was also known for his stage name, Prince Rogers. He wrote and produced many songs. And he was the father of the only and only super-star Prince! Which is what he's most known for in history today. Some songs he produced include Don't Play With Love, Runnin Through My Mind, Lucky Am I, Heart of Mine, Step Back and Christopher Tracy's Parade.
M. S. Subbulakshmi
Born: September 16, 1916, in Madurai, India
M. S. Subbulakshmi was an Indian Classical Singer who was also known as 'M.S, Queen of Music' for her incredible voice and song releases. These include Oli Padaitha Kanninai, Kandu Kandu, Varuga Varugave, Maala Pozhuthinile, Jagadodharana, Bhavayami Ragamalika Rupakam Swati Tirunal and Suprabhatam. She won many awards throughout her career, including Bharat Ratna, Ramon Magsaysay Award, and the Sangeet Natak Akademi Award.
Ray Ellington
Born: March 17, 1916, in Kennington, London, United Kingdom
Ray Ellington was an English singer, drummer and bandleader. He leads The Ray Ellington Quartet Musical Group into success, they were even nominated for NME Award For Small Band. The members included Ray Ellington, Dick Katz, Coleridge Goode and Lauderic Caton. His most famous songs include The Three Bears, Jump Over, Left Hand Boogie, The Madison, The Green Doctor, All's Going Well, If You Can't Say Something Nice and She's a Home Girl.
Most Famous Musicians Born in 1916